A GENTLE BREEZE
English rendering of original Marathi Poems
by
Kavi (Poet) Anil
(Atmaram Raoji Deshpande)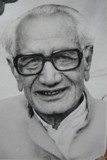 Born on 11th Sept 1901 at Murtijapur, a small town in Central India,
Atmaram Raoji Deshpande proceeded to Poona in 1919. He joined Fergusson College Poona, a well known institution, for his Bachelor of Arts degree. Here he met Miss Kusum Jayavant and fell in love. Their love blossomed into a happy relationship, growing from platonic to romantic. He married Kusum on 6th October 1929.
After his graduation he proceeded to Calcutta for studies in Indian Art under Abnindranath Tagore and then under Nandalal Bose. He then studied Law and obtained LL.B degree in 1925. He practiced law and pursued a career in Judiciary till 1948 when he was made the Deputy Director of Social Education by the then Madhya Pradesh Government.
In 1956 he was made the Director of the National Fundamental Education center at Delhi and became the Advisor, Social Education to Government of India in 1961.
While pursuing his career, he remained closely associated with various literary fora, Marathi as well as All India, and Presided over many Literary Conferences. His contribution has been recognized by Sahitya Akademi the highest literary body in India, of which he became a fellow in 1979.
Kavi Anil died on 8th May 1982 at Nagpur.
Phulwaat( Little Lamp) : 1932
"Phulwaat" (Little Lamp) is a collection of poems dedicated to love and life. This collection was first published in 1932 when Marathi poetry was passing through a stagnant phase. This collection heralded the arrival of a young dynamic poet, Kavi Anil ( A.R.Deshpande),with a new vision, on the Marathi poetry scene. Easy language, sweet lyrics set to tune and gentle growth of feelings are specialties of his poems. The feelings expressed are strong not frivolous. Depth of expression, variety in imagery and its expression, are some of his strong points.
The love for which the poet sings in this book is not only young love seeking fulfillment, it is also the love for equality, brotherhood and humanity. To this all encompassing love the poet sings through his poems
Bhagnamurti (The Vandalised Statue): A long poem, 1935
This second book of poetry published in 1940,is a single long poem of about 1000 lines.Kavi Anil, who gained fame with his first volume of poems "Phulwaat" with soft,lyrical love poems, shocks his readers with this presentation. This is an elegy,not lamenting the loss of a loved person ,but the loss of values, loss of the ancient arts and culture and apathy of the society towards its heritage.
The poet describes the sad state of a magnificient statue of 'Trivikram Wamana' at Ramtek, a hill temple town about 50 kms from Nagpur in Central India. The poet is saddened by the sorry state of this beautiful example of ancient Indian sculputure and is moved to comment on the loss of cultural values and impotency it brings to once great people.
This poem brought about a great change in the flow of Marathi poetry. Not only because it was a poem which made its readers think, but it set out a new path, diverting from meter and singabilty. It is set in free verse which was,at the time this poem was published , something which shook the world of Marathi poetry.
Nirwasit Chinee Mulas (To a Chinese Refugee Child): A long poem, 1943
This long poem" To A Chinese Refugee Child" was written by Kavi Anil in 1942. The Sino- Japanese war was at its height and the tales of Japanese brutality were on the front pages of all news papers.
The poet was deeply touched by a photograph of a forlorn scared Chinese child that appeared in one of the newspapers and this poem was born.
Pertevha: A collection of poems, 1947
This is Kavi Anil's fourth book of poems, published in 1947, containing the poems written in the period 1932 to 1946. The book has two distinct parts; first 39 pages have poems which continue the theme of his first book, Phulwaat ,published in 1932, of love poems bound in meter and rhyme. The other 64 pages are in free verse, which he propounded with his free verse poem " love and Life" (Prem aani Jeevan), which created a storm in literary circles , also included in this book.
The theme poem of this book is about the bird "Pertevha" (Common Hawk Cuckoo or The Brain Fever Bird also known as 'Pavashyaa' in Marathi). This bird migrates to India on the Monsoon winds from Africa, and at the onset of rains utters a shrill cry exhorting the peasants to prepare the fields for sowing and plant the seeds. The poet has given a new meaning the cry of the bird as a message for the people to rise and take up new ideas to create a new world.
Saangaati: A collection of poems, 1961
This book of poems by Kavi Anil was published in 1961 and contains his work from 1946 to 1961. The volume also contains his long elegy " Nirwasit Chinee Mulas" (To a Chinese Refugee Child) published in 1943...
Anil was not a prolific writer like many of his period. He wrote but a few poems, each of these deep with meaning, inviting the reader to delve deep in his mind as well as that of the poet.
In his poems, Anil looks at various facets of life with love and tenderness. He also reflects, a bit sorrowfully, on the degradation of values in the society. He paints his vision in his descriptions of the marvels of nature, like the wonderful world of clouds and the birth of the banana pod.
This volume also contains some his most popular poems set to music by eminent artists and singers like 'Kumar Gandharva" and "Devaki Pandit"
Dashpadi: A collection of poems, 1976
This, the last volume of poems by Kavi Anil, published in 1976, is the culmination of his work. His contribution to Marathi poetry and Indian literature was recognized in1977 by the Sahitya Academy, the highest literary body in India, by the award of the "Sahitya Academy Award" for this publication.
The volume contains a total of 39 poems ,bound in the new structure of ten lines ,composed of five pairs of two lines ,each complete in itself, but, unlike the 'gazal', integral part of the whole poem of ten lines .
The volume contains the work of the poet from 1959 to 1974. Some of the poems published in his earlier volume of poems 'Sangaati' are included here as these form a natural prelude to the new form.
Poems in this volume though deep in their meaning are easy to read. There is no cluttering of obtuse 'isms' or convoluted imagery. The poet expresses his thoughts in simple, moving words which touch the heart.
Some of the poems included , like 'Anibani" expressing the strife and challenges of life met and overcome," Ekaki"(Lonely) the feeling of loneliness , are some of the shining gems of the collection.
The crowning glory of the collection is however the last poem" Tuzhyaawina" ( Without you).This ,the last poem ( excepting his last incomplete poem) penned by Kavi Anil, after a long hiatus , wondering how time could pass without his lost love, has been beautifully set to music and rendered in the latest album "Tuzhyaawina" released recently.
English Renderings of Marathi Poems by Kavi Anil
Presented here are some of the Poems in Marathi by Kavi Anil rendered in English
These are not translations as it is not possible to 'translate' a poem. To preserve the rhythm and balance of a poem some liberties have to be taken. It is the Renderer's endeavor to keep as close to the original text as possible.
If you like and enjoy the renderings the credit is to the original poem and Kavi Anil. If you find the rendering wanting the fault is entirely that of the Renderer.
For each poem a link has been provided under the English Text which will bring up the original Marathi Text